Solutions
Our business is built on our engineering and manufacturing capabilities, our products, and the technologies we use. So, as we claim in our slogan, in addition to our products, we also provide
creative engineering and manufacturing
solutions to our clients. Concretely, as a company specialized in the design and manufacturing of specialty equipment aimed for the microengineering industry, idonus can offer:
Key technologies
idonus has expertise in the following areas:
HF vapor phase etching
Ion implantation
Machine vision measurement (telecentric optics)
Nonimaging optics: LED-based illuminations
For further details, check our dedicated page on technologies.
---
Downloads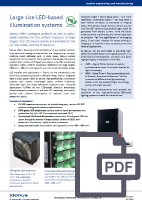 Nonimaging optics
: Solution brochure for large size LED illuminations (
PDF
).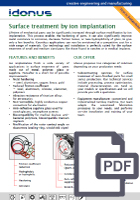 Ion implantation
: Download our flyer on surface treatment (
PDF
).
---