For our visitors
Our headquarters are in the building Innoparc 1 in Hauterive (postal code 2068), Switzerland.
Our address writes as follows:
Rouges-Terres 61
2068 Hauterive / Neuchâtel
Switzerland
For our visitors, we have prepared this orientation guide with useful details for the last few kilometres. Have a look at the aerial view: not only to appreciate the landscape, but also to locate our premises in relation to the lake, the Laténium (museum of archeology), and the city of Neuchâtel.
Whichever way you travel, head towards the city of Neuchâtel. Then, head to the town of Hauterive. By road, take the exit "Hauterive / St-Blaise." Once you have arrived in Hauterive, follow the touristic signs to the Laténium. We are only a stone's throw from that place.
If you come by train, take the "Fun'ambule" from the train station Neuchâtel-Gare. It is a single-stop funicular that will bring you downhill to the University of Neuchâtel. Bus Nr. 101 for "Marin-Epagnier" stops next to the main entrance of the university building. It takes about 15 minutes to get to the "Laténium" stop. The main entrance of the Innoparc 1 building is right next to the bus stop.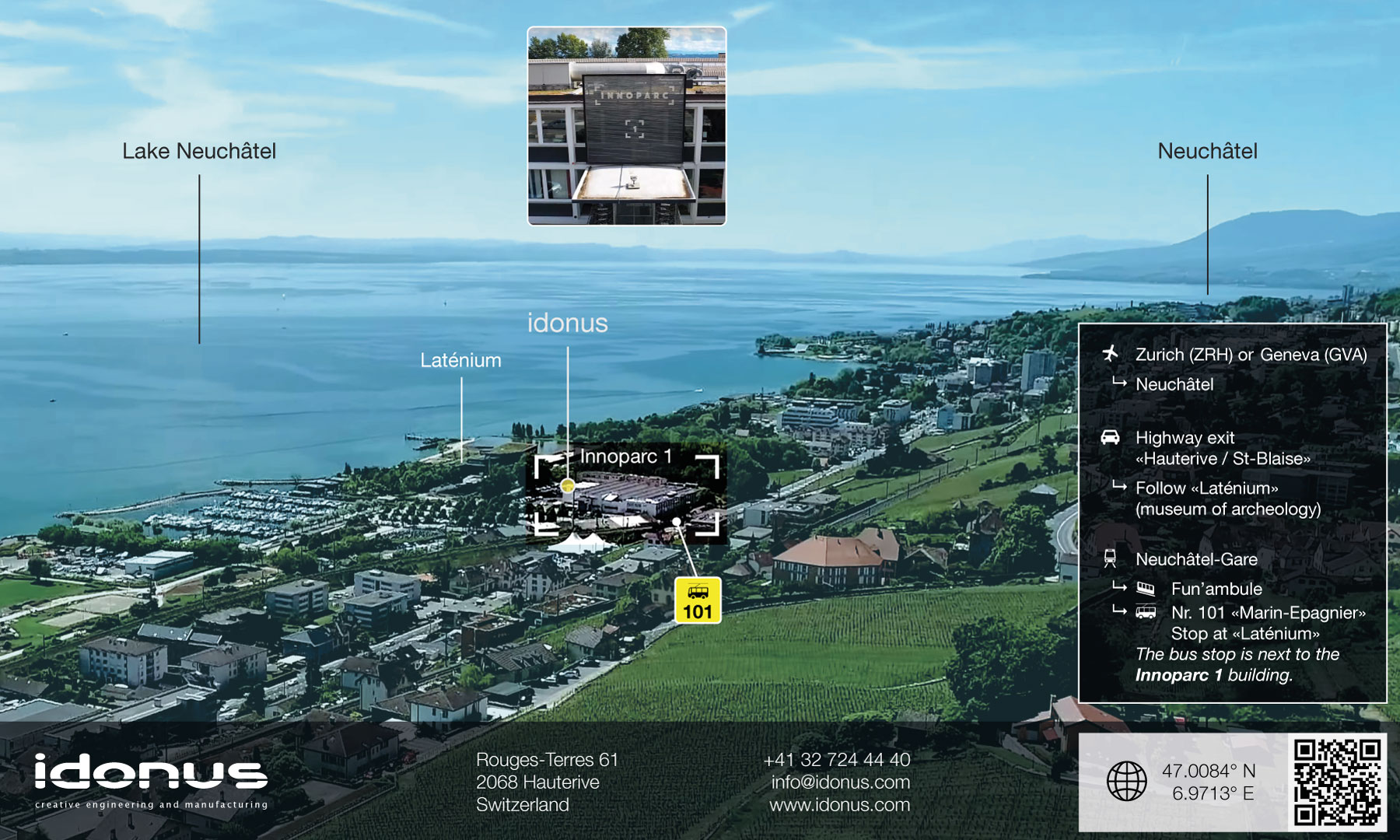 idonus sàrl
Rouges-Terres 61
2068 Hauterive / Neuchâtel
Switzerland
This email address is being protected from spambots. You need JavaScript enabled to view it.
Phone: +41 32 724 44 40


Company identification number (UID / IDE):
CHE-111.995.794
VAT number:
CHE-111.995.794
Registre du Commerce Neuchâtel:
CH-645-4097393-0, 02173/20041